Laying the Table
Whether it is a formal dinner or a much more casual occasion, the basic rules do not vary when laying the table.
Give each person as much elbow room as the table permits. Leave an even amount of space between places. Knives and spoons go on the right, forks on the left. The idea is always to work from the outside in.
Formally, it is correct always to lay side plates – even if they are not going to be used – with the napkins simply folded on them.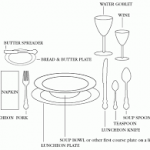 Once you've mastered the basics…go wild with the decorations!!